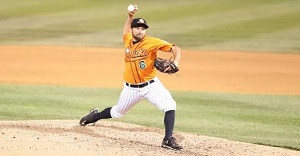 By Bob Wirz
A healthy number of Atlantic League players are busy in offseason leagues these days, but not many are in the position of knuckleball hurler Mickey Jannis, who spent much of the 2013 and 2014 seasons at Bridgeport and Southern Maryland and was with Long Island earlier this season.
The New York Mets purchased the 27-year-old's contract in July, and they were pleased to the point they assigned the right-hander to the Arizona Fall League, which is reserved exclusively for those major league organizations believe have a reasonable chance of playing in the major leagues.
Jannis has taken advantage of the opportunity in his first four starts. He has split two decisions although the more important numbers probably are his 2.37 earned run average and the 15 hits he has given up in 19 innings.
"I think they (Mets) feel very highly of me based on them sending me out here," he said in a lengthy interview with the Ducks, "especially because I'm such a different pitcher than everybody else in the organization." Limited to pitching in a rookie league and Class A in his first stint in a major league organization (Tampa Bay), the Nevada native made 16 appearances (11 starts) and compiled a 6-2 record and 1.18 ERA with the Ducks before finishing last season with Class AA Binghamton, NY.
Jannis leaves little doubt how he feels three plus seasons after being released by the Rays. "The Atlantic League, and independent ball overall, is really a good thing," Jannis said. "I think it's underestimated sometimes by players who get released by organizations. They're like 'Oh man, I have to go play independent baseball now? Is that even real baseball?' Then they get there and realize that these guys have played in the big leagues, Triple-A and Double-A ball and are still great baseball players."
Based on the history of AFL players of the past, it would not be a shock to see Jannis get to show off his knuckler at some point next spring training with the National League champions themselves.
Lucas Irvine Sharp in Mexico
Another prominent 2015 Atlantic League hurler, Somerset's Lucas Irvine, is getting extensive work in Mexico this offseason. The new Arizona farmhand has averaged just over six innings for each of his five starts so far, posting a 3.52 ERA and allowing 27 hits in 30.2 innings. He has 19 strikeouts.
The right-hander, 26, was part of Somerset's powerful pitching staff for much of the year, going 6-8 with a 3.41 ERA in 22 starts before the Diamondbacks signed him late and saw him go 2-0, 2.13 in two starts in the California League.
Previously the chief spokesman for Commissioners Bowie Kuhn and Peter Ueberroth, Bob Wirz has been writing extensively about the Atlantic League and Independent Baseball since 2003.