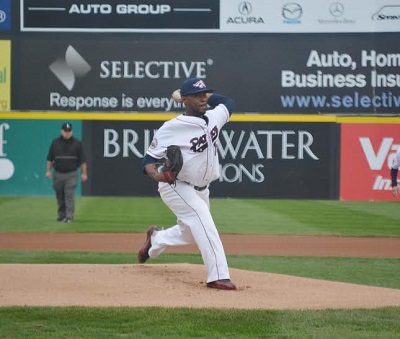 The Atlantic League of Professional Baseball (ALPB), the most innovative league in baseball, today announced the Rawlings Gold Glove Defensive Player of the Year and the league's inaugural Red, White and Blue All-Defensive team. The results were based on votes from club managers and executives.
Long Island Ducks shortstop Dan Lyons, a key cog in the club's late season run was named Rawlings Gold Glove Defensive Player of the Year for his accomplishments on the field. Among all other shortstops with at least 100 games played, Lyons, 31, ranked the highest in fielding percentage (.976), recording the second most assists (355) and putouts (183), while committing only 13 errors. He represented the Liberty Division in the 2015 Atlantic League All-Star Game.
"Dan has been a defensive stalwart since he started here five seasons ago," said Ducks President/GM Michael Pfaff. "We're proud to have him as a member of our organization and are pleased he can call himself the first player in Atlantic League history to receive this tremendous award."
For the first time in ALPB history, a Red, White and Blue All-Defense team was established to commemorate the new red and blue stitched Rawlings baseball that was adopted as the official league baseball beginning with this year's All-Star Game on July 8.
"It's an incredible honor to present the first Rawlings Gold Glove Award in Atlantic League history to Dan, such an accomplished athlete," said Mike Thompson, Executive Vice President, Marketing of Rawlings Sporting Goods. "The award has become the industry standard in recognizing defensive greatness in professional baseball."
The 2015 Red, White & Blue Glove All-Defensive Team features ALPB Player of the Year Welington Dotel and Roy Merritt, the league's most valuable player in the playoffs. The full roster follows:
Catcher Juan Apodaca, Lancaster Barnstormers
First Base Andres Perez, York Revolution
Second Base Nate Spears, Somerset Patriots
Third Base Patrick Palmeiro, Sugar Land Skeeters
Shortstop Dan Lyons, Long Island Ducks
Outfield Welington Dotel, Bridgeport Bluefish
Outfield Carlos Guzman, Camden Riversharks
Outfield Michael Rockett, Camden Riversharks
Pitcher Roy Merritt (LHP), Somerset Patriots/Sugar Land Skeeters
About The Atlantic League
The Atlantic League is the most innovative league in professional baseball, offers the highest level of minor league baseball playing skills, and is a player gateway to Major League Baseball. Its mission is to bring a high level of professional baseball and affordable family entertainment to select communities not presently being served by Major League or Minor League teams. ALPB players are highly experienced professionals, having progressed through professional baseball's developmental levels (A, AA, AAA). Over 40% of all Atlantic League players have Major League service time. Like MLB, Atlantic League clubs pay their players to win baseball games, not to apprentice as in baseball's developmental levels. The following teams play in the Atlantic League: Bridgeport Bluefish, Camden Riversharks, Lancaster Barnstormers, Long Island Ducks, Somerset Patriots, Southern Maryland Blue Crabs, Sugar Land Skeeters and York Revolution.
About Rawlings
Rawlings Sporting Goods Company, Inc. is a leading manufacturer and marketer of sporting goods in the United States. Since the company's inception in 1887, Rawlings' mission has always centered on enabling participation by developing and producing innovative, high-performance equipment and protective apparel for the professional, amateur and entry-level player. With an assortment of baseball, basketball, football and softball game-related product lines, Rawlings is present everywhere team sports are played. Leagues and conferences of all skill levels integrate Rawlings' unparalleled product portfolio into their sports: as the Official Baseball Supplier and Official Helmet of Major League Baseball®, the official baseball for the NCAA®, the official football for the NAIA®, the official basketball for the NAIA, NJCAA® and AAU®, and the approved baseball, basketball, football and softball of the National High School Federation®. For more information, please visit Rawlings.com or by phone at (314) 819-2800.
About the Rawlings Gold Glove Award®
The Rawlings Gold Glove Award® is a registered trademark owned by Rawlings Sporting Goods Company, Inc. The award is correctly identified as the Rawlings Gold Glove Award. The name should not be shortened, abbreviated or otherwise misused. Proper identification of this service mark using the registration symbol and the Rawlings name is important to protect the integrity of the program and perpetuate this worthy tradition. For more information, please visit www.rawlingsgoldglove.com.