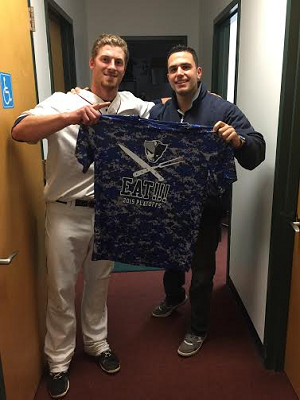 The Somerset Patriots, led by Will Oliver (2-0) and timely hitting, took Game Two of the Atlantic League Championship Series 7-2 over the Southern Maryland Blue Crabs.
Coming off a complete game shutout win in his last playoff start, Oliver once again gave Somerset a much-needed performance to get back in the series.
"I think we had the right guy on the hill. Not that other guys couldn't have done that, but I definitely felt good about Oliver. It's a tough situation to get loose however many times and deal with delays and tough conditions," Somerset Patriots manager Brett Jodie said.
Oliver allowed two runs on four hits and struck out eight in seven innings pitched.
"The game plan was to fill up the zone and make them beat you. Tonight he had a lot of movement on his two-seamer and we were trying to work off that pretty good. When he needed it, he snapped off a few breaking balls that got him back in the count to put some guys away," catcher Adam Donachie said.
The Blue Crabs took a 1-0 lead in the top of the second on a solo home run by Jovan Rosa (1).
Somerset rallied in the fourth inning to plate three runs for a 3-1 advantage. A sacrifice fly by Mike Wilson allowed Aharon Eggleston to score to even the ballgame before Greg Hopkins followed with a two-run single to left.
"I was just happy to get the opportunity to come up in that situation and come through for the team," Hopkins said.
The next inning, the Patriots brought home four more runs to expand their lead. David Vidal's two-run single continued the third baseman's clutch hitting in the series. Eggleston came home on an error and Hopkins drove in his third run of the game on a fielder's choice.
"You know that's how we won all year. Different heroes every night," said Jodie.
It was a costly win for Somerset who saw two starters injured early in the game. Right fielder Michael Burgess sprained his ankle on a fly ball and Ollie Linton crashed into the outfield wall trying to make a play in center and was taken away in an ambulance. Linton remained in the hospital overnight for evaluation for a concussion.
"That's not anything we take lightly. It's a family here; a real tight knit group. You don't want to see your guys go down," Jodie added.
Blue Crabs starter Brian Burres (0-2) suffered the loss, allowing six runs (four earned) on three hits in four innings pitched.
The remainder of the 2015 Atlantic League Championship Series will continue on the road on Friday evening in Southern Maryland. For more information visit www.somersetpatriots.com.