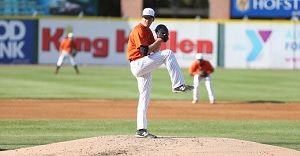 While Rich Hill is dazzling his new Boston Red Sox teammates and Scott Kazmir will give the Atlantic League one really good bragging point during the major league baseball postseason if Houston makes it that far, it would be unfair not to recognize the help lefty Ian Thomas has given the Los Angeles Dodgers, who clinched the National League West championship late Tuesday night.
Thomas, who probably still faces long odds to be on the Dodgers' National League Division Series roster when they square up against the New York Mets, was called on by Don Mattingly six times in a 17-day span as the Dodgers were wrapping up the West. After getting into only eight games all season with Atlanta and LA until he was recalled at the start of September, the 28-year-old worked eight innings during the month, allowing three runs along with eight hits and three walks and he struck out 10.
That should be encouraging for the native Virginian and Virginia Commonwealth University product, who started his professional career in Independent Baseball and got his first affiliated opportunity when Atlanta signed him after he had put up a 0.96 earned run average in seven relief appearances at York to start the '12 campaign. Two years later he broke into the majors with the Braves, who sent Thomas to the Dodgers earlier this season.
Aside from the two major league teams, Thomas had a 4-1, 4.19 record for three minor league teams this year, including 58 strikeouts in the same number of innings.
Drew Would Add Another Chapter, If Healthy
Infielder Stephen Drew (Camden) of the New York Yankees could be another former Atlantic League player in the postseason although that is very much in doubt because of concussion-like symptoms suffered more than a week ago when he took a ground ball to the face while the Yankees were playing at Citi Field, home of the New York Mets.
Then There Is the Dazzling Rich Hill
The predicted contemplation of Rich Hill's chances to be with the Red Sox next season are building now that the 35-year-old southpaw, who made two dazzling starts for Long Island before Boston purchased his contract, has become the first Bosox pitcher ever to post three consecutive starts of seven or more innings with 10 strikeouts and no more than one walk in any game.
Hill, who has gone 2-0 with a 1.17 ERA and 30 strikeouts in 23 innings and hurled a complete-game, two-hit shutout against Baltimore in his last start, confirmed to The Boston Globe he went back to starting for the first time since 2009 at the suggestion of the Ducks.
"They brought it up and I decided to try it," Hill told the newspaper. "Been taking (it) one pitch at a time ever since."
As for next season, Hill told The Globe "I don't want to even go there, really. Just really kind of focus in on tomorrow and get ready for that next start (which is scheduled for Thursday night at Yankee Stadium). You want to get to the finish line and worry about [next year] when it comes around."
"Ten strikeouts in three straight outings is a pretty impressive number," interim manager Torey Lovullo told The Globe. "It's real. It's not happening because the hitters are overlooking Rich Hill. They're game-planning for him and they still can't figure out what he's doing."
Lovullo had more to say about Hill to NESN.com: "You start to get the feel that this is a little bit of a habit…he's starting to give us a really good feeling that he can go up there any time and command the baseball and win a game."
The back-to-back-to-back starts have put Hill in the record book. Research by the Elias Sports Bureau, according to The Globe, found that he is the first pitcher in modern history (for any American League team) to strike out at least 10 in his first three starts following a gap of five years since his previous start. He is also the first pitcher in history to make his season debut in September and strike out at least 10 in three consecutive games.
Previously the chief spokesman for Commissioners Bowie Kuhn and Peter Ueberroth, Bob Wirz has been writing extensively about the Atlantic League and Independent Baseball since 2003.