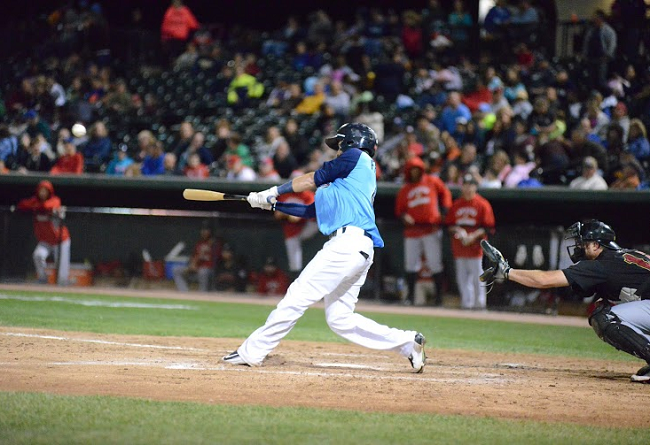 The best of five series of the Freedom Division championship shifted to Southern Maryland for game three. Southern Maryland holds home field advantage with games three, four, and five being held at Regency Furniture Stadium.
In game three this evening, RHP Jon Leicester followed in the footsteps of game starter Daryl Thompson. Leicester picked up the win, going six innings, allowing just a run on five hits, and striking out six sending the Blue Crabs to the 6-1 victory.
The other story of the ballgame was the timely offense in opportune times for Southern Maryland. The Blue Crabs got on the board early in the bottom of the first scoring four runs on three hits. Both Fred Lewis and Casey Stevenson reached base on infield singles. After Zach Wilson walked to load the bases, Reggie Abercrombie came up to bat and drew the walk to push the first run of the ballgame across to make it 1-0. A couple of batters later with two in scoring position, Jamar Walton ripped a two run single to right field to cap off the four run inning.
RHP Joe Gardner settled down though for Lancaster. In fact, Joe sat down six straight hitters, and retired 11 of 13. Gardner also struck out eight batters on the evening.
Lancaster got on the board in the top of the second on an Anderson Feliz RBI single that proved to be the only run of the night for Lancaster.
Southern Maryland added a run in the seventh on a Casey Frawley solo homerun over the wall in left. In the eighth, Craig Maddox lashed a single to right field to score Jovan Rosa to add the insurance runs Southern Maryland needed.
The bullpen combination of RHP Orlando Santos, and RHP Cody Eppley each pitched a combined scoreless three innings to send the Blue Crabs home victorious.