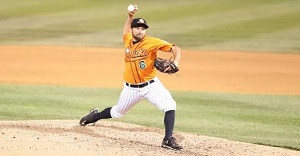 The Atlantic League received another bonus for its "our players are major league ready" saying Tuesday afternoon when Boston promoted veteran Rich Hill to its major league roster only 29 days after the Red Sox purchased the southpaw's contract from Long Island.
It seems likely the Red Sox will give the 35-year-old one or more starts in the final 26 days of the American League season as an audition for next season since that is what he did so well in two appearances with the Ducks and five more with Boston's top farm club (3-2, 2.79 at Pawtucket, RI). He had not started in three years prior to joining Long Island, and has not made a major league start since 2009.
Hill is the 15th player in Long Island history to return to the majors, and he gives the Atlantic League seven players active on major league rosters with recent York outfielder Jose Constanza hoping to join Tampa Bay. His current team, the Durham Bulls, finished their International League season Monday.
The other former Atlantic League players currently in the majors are 2B Stephen Drew (Camden) with the New York Yankees, LHP Scott Kazmir (Sugar Land) with Houston, RHP Logan Kensing (Bridgeport) with Seattle, C Rene Rivera (Camden) with Tampa Bay, LHP Ian Thomas (York) with the Los Angeles Dodgers and RHP Jerome Williams (Lancaster) with Philadelphia.
Hill dazzled in his two starts for Long Island, tying a franchise record with 14 strikeouts against Camden the day before his contract was sold and 11 scoreless innings overall in which he allowed only two hits and three walks and fanned 21.
Another Former Ducks Hurler Already in Playoffs
While Long Island still needs a few more wins to wrap up a likely playoff berth one of the hurlers who helped give the Ducks a big leg up for a potential wild card role already is in the playoffs with his new team, the New York Mets' Class AA franchise in Binghamton, NY.
Knuckleballer Mickey Jannis was 6-2 with a mighty impressive 1.18 ERA while with Long Island, and now enters the Eastern League playoffs after a recent promotion from Class A St. Lucie, FL. He had two decent starts at Binghamton despite a 0-2 record (five earned runs in 12.1 innings) before stumbling Monday when he started on three days of rest, walked four and allowed two hits and three runs in only two-thirds of an inning.
As sometimes happens in a meaningless season finale between two playoff-bound teams, another former Atlantic League player, first baseman Brock Peterson (Bridgeport), pitched the last three innings of that game to get the win, 8-6 over Altoona, PA.
Previously the chief spokesman for Commissioners Bowie Kuhn and Peter Ueberroth, Bob Wirz has been writing extensively about the Atlantic League and Independent Baseball since 2003.