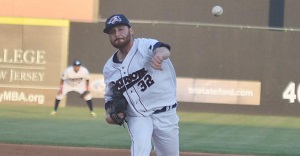 Sean Bierman was one of the standout pitchers at Somerset this season (10-2, 1.79) until the lefty recently returned to affiliated baseball in the Baltimore organization, where in his first start at Frederick, MD (second start in the Orioles farm system) he threw six innings of one-run baseball to get a Carolina League victory over Lynchburg, VA. A writer at The Frederick News Post asked the 26-year-old if when playing in an Independent league "do you ever have to fight any thoughts about whether or not you want to continue doing this?"
"Every day, honestly," Bierman answered. "What keeps me coming back to the ballpark is being around your teammates and your coaches and having fun in the clubhouse. The thing you realize when you go to independent baseball is how much you're doing this not for the money or the dream, (but) how much fun you have playing it. Since it's such an authentic type of baseball, independent baseball, meaning that you're their only team, it's really just putting wins and losses up in the columns. You don't worry about moving through an organization. You kind of go back to the basics and you realize you're doing this to have fun."
Previously the chief spokesman for Commissioners Bowie Kuhn and Peter Ueberroth, Bob Wirz has been writing extensively about the Atlantic League and Independent Baseball since 2003. He is a frequent contributor to this site as well as writing his blog, www.IndyBaseballChatter.com.