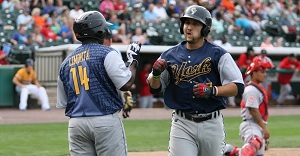 Some managers are finding it especially difficult this season to find replacement players when they sell regulars to major league organizations or suffer injuries. Position players seem to be in even shorter supply.
York's Mark Mason, whose Revolution are challenging rival Lancaster for second half honors in the Freedom Division, has come up with a new supply channel in the startup North Country League, with special help from two of his former players and, Brad Michals, a league official. One of them the players, catcher Sandy DeLeon, a coach under Skip Nathanson at Old Orchard Beach, ME, contacted York bench and third base coach Enohel Polanco, then brought five players in for a workout. No one was signed immediately, but discussions continued. The other former player under Mason, Eddy Gonzalez, managed Road City in the first-year league.
Mason has tried no less than eight North Country players although five of them were around for only a short time, sometimes because of visa issues.
Nick Ferdinand, who Nathanson says was the very first player from the new league to get an opportunity elsewhere, and fellow outfielder Yeicock Calderon have made sizeable contributions at York and lefty Ron Schreurs has helped out the bullpen. Ferdinand is 25, the other two only 23, pretty youthful for the veteran-stocked Atlantic League.
Calderon is in the lineup in right field or as designated hitter virtually every day, and with three homers and eight runs batted in during his last five games has posted a .307 average for his 44 games with York. The former New York Yankees farmhand has seven homers among his 17 extra-base hits and has driven in 26 runs. "He has been pretty phenomenal," said Mason, who believes he needs to continue working on his defense.
Ferdinand, a onetime University of Delaware star and Philadelphia Phillies draftee, hit a walk-off homer in his first game for York, and became one of the team's top long ball leaders very quickly as well as the regular left fielder. He has eight homers and 20 RBI in the 51 games he has played although he has struggled of late. "He also has a very strong arm, one of the best in the league," Mason praised.
Schreurs, who was thrown into the mix and saved a game in his first appearance, has a power arm, hitting a high as 96 MPH in that appearance. The 6-foot-6 southpaw only recently gave up his first runs, but still has a 1.50 ERA with 17 strikeouts in 12 innings spread over the same number of games. He has given up only six hits and has walked seven, settling into a role where he faces lefties or works in the seventh or eighth inning.
Previously the chief spokesman for Commissioners Bowie Kuhn and Peter Ueberroth, Bob Wirz has been writing extensively about the Atlantic League and Independent Baseball since 2003. He is a frequent contributor to this site as well as writing his blog, www.IndyBaseballChatter.com.