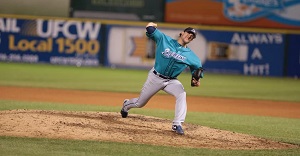 With the major league trade deadline ending Friday, teams will mostly be looking into their own minor league system when they have a need. Right-handed reliever Jaye Chapman, who remembers last season as a "blessing in disguise" when he got his career back on track at Bridgeport, could be one of those to benefit if the parent Milwaukee Brewers need help.
Chapman was exceptional in Class AA earlier this season at Biloxi, MS (0.82 ERA and selection as a mid-season Southern League All-Star), hit a bump in two consecutive outings after being promoted to Triple-A, but has been very much on target in his last six games for Colorado Springs. He has allowed only four hits and a walk in seven innings during that run while saving three Pacific Coast League games, giving him a total of eight for the Sky Sox along with a 2-1 record and 3.13 ERA and more than a strikeout per inning.
One might not get such positive vibes on the 28-year-old except that this is reminiscent of three years ago when the native Floridian got his first major league experience (14 games, 3.75) with the Chicago Cubs.
"I was probably going to pitch some in the big leagues (in 2013)," Chapman told The Panama City News Herald. "I felt like I was really close. I felt like I was a part of (the Cubs') plan."
The 6-foot, 195-pound pitcher learned he suffered from Femoroacetabular Impingement or FAI in both hips, a congenital condition in which the bones of the hip have an unusual shape and rub against each other causing damage to the joint, he told the newspaper. Microfracture surgery in both hips followed, he missed most of the season and his contract ended.
He landed the opportunity with Bridgeport last season, pitching in 50 games and going 2-3 with a 3.86 ERA, 58 strikeouts and 24 walks in 52.2 innings. "I was elated," Chapman said, when his agent called after the season to say Milwaukee was interested in him. "I was like, 'what'? It was such a blessing. After all this long, hard work, putting in the rehab, doing six months on crutches, to finally get an opportunity to play affiliated baseball again. I couldn't wait."
One more telephone call will have Chapman back where he feels he belongs.
Previously the chief spokesman for Commissioners Bowie Kuhn and Peter Ueberroth, Bob Wirz has been writing extensively about the Atlantic League and Independent Baseball since 2003. He is a frequent contributor to this site as well as writing his blog, www.IndyBaseballChatter.com.