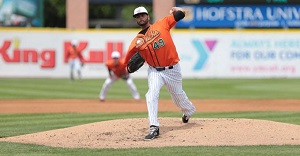 The bevy of player sales to major league organizations and Mexico in recent days reinforces both the quantity and quality of talented players in the Atlantic League, but one must also look at what it does to the playoff race. There can be little doubt the Long Island Ducks' chances of getting to the postseason have taken a hit at the start of the second half because of Triple Crown candidate Lew Ford going south of the border at virtually the same time as starting pitchers Andrew Barbosa and Mickey Jannis joined major league organizations.
Forty-one players have had their contracts sold in what could end up as a record year for the league, with Ford's departure as big as they come. The former major leaguer could return some time after the Mexican League's regular season ends August 14, but in the meantime the Ducks have to get along without the defending league Player of the Year and their top run producer, who doubles as bench coach. He was leading the league in batting (.361), runs batted in (58) and hits (96) and within reach of the home run title.
Barbosa certainly made the league look good when he debuted with his new team, Atlanta's No. 2 farm club (Mississippi), with a dazzling 12-strikeout performance in which he retired the first 14 hitters, hurled seven scoreless innings, allowed only three hits and collected a 9-0 victory. The left-hander had given up only one run in six of his nine Long Island starts, posting a 4-1, 2.82 record with 59 strikeouts in 51 innings.
Previously the chief spokesman for Commissioners Bowie Kuhn and Peter Ueberroth, Bob Wirz has been writing extensively about the Atlantic League and Independent Baseball since 2003. He is a frequent contributor to this site as well as writing his blog, www.IndyBaseballChatter.com.