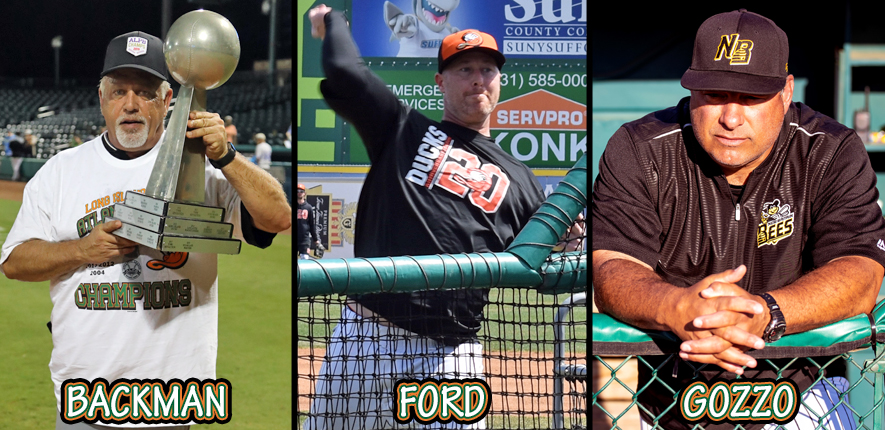 January 30, 2020, Central Islip, N.Y. – The Long Island Ducks today finalized their coaching staff for the 2020 season. Joining field manager Wally Backman and outfielder/hitting coach Lew Ford will be Mauro "Goose" Gozzo, who will serve as pitching coach. Gozzo fills the role held by Rick Tomlin, who retired from coaching following the 2019 season.
"We have the utmost confidence in the staff we have put together for 2020," said Ducks President/GM Michael Pfaff. "Wally, Lew and Mauro boast 26 years of MLB playing experience and 10 seasons of ALPB coaching experience."
Gozzo joins the coaching staff after serving as field manager for the New Britain Bees in 2019. Under his guidance, the Bees posted a winning record of 72-68 during the regular season, finishing above .500 in each half of the year. The Connecticut native also saw four players have their contracts purchased by Major League Baseball or foreign professional leagues in 2019. In 2018, Gozzo served as pitching coach under then-manager Wally Backman. The pair led the Bees to a 61-65 overall record, including a 33-30 first half mark that saw them finish just two games out of a playoff berth.
The 53-year-old spent six seasons in the Major Leagues where he pitched with the Toronto Blue Jays (1989), Cleveland Indians (1990-91), Minnesota Twins (1992) and New York Mets (1993-94). He combined to make 48 appearances (13 starts) in the big leagues, posting a 7-7 record and 124 innings pitched. Gozzo was originally selected by the Mets in the 13th round of the 1984 amateur draft. He has also held roles as a private instructor, teaching Major League pitchers such as Matt Cain and Drew Pomeranz.
"I'm very excited to work for the premier organization in the Atlantic League," said Gozzo. "It's good to be in that dugout since it's always been so tough competing against a quality team. Hopefully I can contribute to another championship."
Backman returns as Ducks field manager for a second season after being selected as the Atlantic League's Manager of the Year in 2019. He led Long Island to an 86-54 record during the regular season, breaking the franchise record for most wins in a single-season that was previously achieved by Bud Harrelson (82, 2000). He also became just the second manager in Ducks history to win both the first and second half of the season, joining Kevin Baez, who accomplished the feat in 2011. During the postseason, the 60-year-old led the Ducks to a 6-2 record en route to the franchise's fourth Atlantic League championship. Additionally, he saw a team-record 15 players have their contracts purchased in 2019, including nine by Major League organizations.
The Oregon native has over 20 seasons of managerial experience across professional baseball, having amassed a 1,213-1,131 overall record (.517 winning percentage). In that time, he has led his teams to seven Division Championships and four League Championships. Prior to his coaching career, Backman enjoyed a 14-year Major League playing career. Nine of those seasons (1980-88) were spent played with the New York Mets, where he helped lead the team to a World Series Championship in 1986. He also spent time in "The Show" with the Minnesota Twins (1989), Pittsburgh Pirates (1990), Philadelphia Phillies (1991-92) and Seattle Mariners (1993). The infielder compiled a .275 lifetime batting average with 240 RBIs, 482 runs scored, 893 hits, 138 doubles and 117 stolen bases in 1,102 MLB games.
Ford returns for his 11th season with the Ducks organization, more than any other player in franchise history, and seventh in a player/coach role. The outfielder/designated hitter is the franchise's all-time leading hitter (minimum 500 at bats) with a .320 batting average. His 921 hits are also just 42 shy of tying Ray Navarrete for the all-time franchise record (963). He has played 752 regular season games with the Flock, totaling 75 home runs, 448 RBIs, 483 runs scored, 203 doubles and 263 walks. In addition, the Central Islip resident has appeared in 50 playoff games with Long Island, registering a .278 batting average, four homers, 25 RBIs, 25 runs and 58 hits in 209 at-bats.
The 43-year-old has been selected to play in three Atlantic League All-Star Games while with the Ducks (2014, 2015, 2018). In 2014, he became the second player in franchise history to be named Atlantic League Player of the Year (Ray Navarrete, 2009) after breaking the league's single-season records for hits (189) and games played (140). Ford has appeared in six Atlantic League Championship Series with the Ducks, including the championship-winning clubs in 2013 and 2019, and has been selected to the Atlantic League's Post-Season All-Star Team twice (2014, 2018). After spending five seasons in the Major Leagues with the Minnesota Twins (2003-07), the Texas native returned to the Major Leagues in 2012 as a member of the Baltimore Orioles after beginning the season with the Ducks.
The Long Island Ducks are members of the Atlantic League of Professional Baseball and play their home games at Bethpage Ballpark. For further information, call (631) 940-DUCK or visit www.liducks.com.