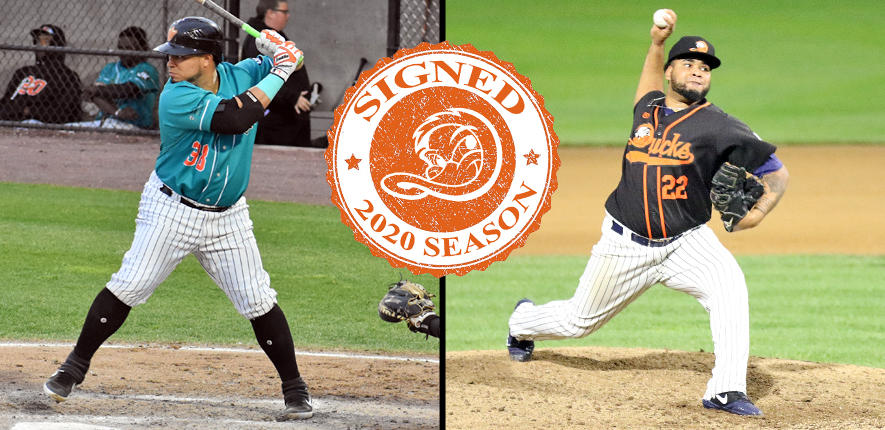 (Central Islip, N.Y., Jan. 27, 2020) – The Long Island Ducks today announced the signings of catcher Ramon Cabrera and right-handed pitcher Ismael Cabrera. Ramon returns for his third season with Long Island and 13th in professional baseball, while Ismael enters his second season with the Ducks and seventh in professional baseball.
"We are happy to welcome back Ramon and Ismael to Long Island," said Ducks President/GM Michael Pfaff. "Both players helped us achieve our ultimate goal of winning a championship in 2019."
Ramon Cabrera appeared in 66 games for the Ducks during the 2019 season. He batted .249 with a career-high seven home runs, 25 RBIs, 21 runs and 14 doubles. Defensively, he posted a .995 fielding percentage behind the plate, committing just three errors all season. The 30-year-old also spent the 2018 season with Long Island, appearing in 84 games. He hit .268 that year with three homers, 31 RBIs, 27 runs and 21 doubles while turning in a .990 fielding percentage. For his efforts, he was selected to play in the Atlantic League All-Star Game, held on Long Island July 11.
The Venezuela native played parts of two seasons (2015-16) in the Major Leagues with the Cincinnati Reds. He batted .264 in 74 games, adding four homers, 26 RBIs, 15 runs and 11 doubles while accruing a .990 fielding percentage. The switch-hitter was selected as an MiLB.com Organization All-Star with the Pittsburgh Pirates in 2011 and with the Reds in 2015. Additionally, he received Topps Class A All-Star honors in 2011 and earned four Mid-Season All-Star honors in the minor leagues (2010, South Atlantic League; 2011, Florida State League; 2012 and 2014, Eastern League). Ramon was originally signed by the Pirates as an amateur free agent in 2008.
Ismael Cabrera joined the Ducks in August of 2019 and went on to pitch in 15 games during the regular season. He struck out 20 batters over 19 innings while walking nine, and he held opponents to a .250 batting average. The 25-year-old went on to pitch two playoff games for the Ducks as well, tossing two scoreless innings of relief and striking out two batters while yielding just one hit and one walk.
Prior to signing with Long Island, the Dominican Republic native posted a 3-1 record with a 3.86 ERA in eight games with the New Jersey Jackals of the Can-Am League. He also spent time over each of the first six seasons of his professional career in the Philadelphia Phillies organization. In 117 games (10 starts) during that span, he went 17-15 with a 3.62 ERA, 11 saves and 212 strikeouts to 86 walks over 204 innings. Ismael was originally signed by the Phillies as an amateur free agent in 2014.
The Long Island Ducks are members of the Atlantic League of Professional Baseball and play their home games at Bethpage Ballpark. For further information, call (631) 940-DUCK or visit www.liducks.com.