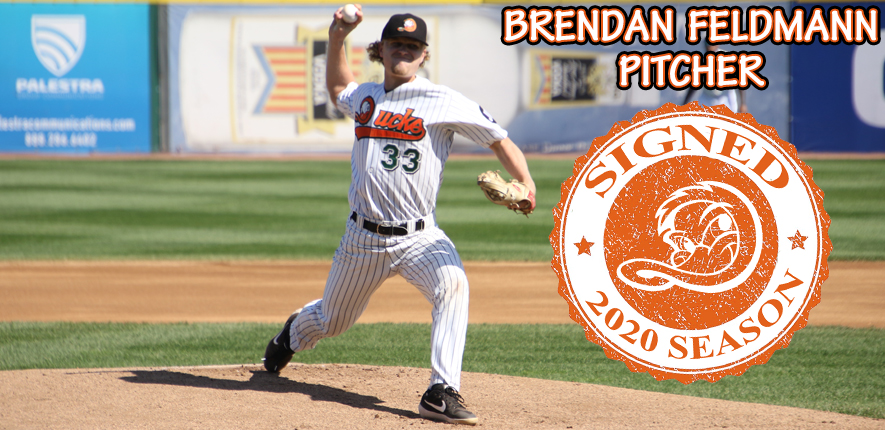 (Central Islip, N.Y., Jan. 21, 2020) – The Long Island Ducks today announced the signing of right-handed pitcher Brendan Feldmann. He returns for his second season with the Ducks and fourth in professional baseball.
"I am happy to come back to a championship-winning team with a great atmosphere," said Feldmann. "I'm excited for another good year!"
Feldmann joined the Ducks in September of 2019 after being acquired from the River City Rascals of the Frontier League for a player to be named later. Following one regular season start with Long Island, he tossed three innings in the postseason without allowing an earned run. In that span, he gave up just two hits and struck two batters while holding opponents to a .182 batting average, helping the Ducks secure the Atlantic League championship.
Prior to his stint with the Ducks, the 25-year-old made 14 appearances (13 starts) with River City. He posted a 7-1 record with a 1.97 ERA, four complete games, one shutout, 87 strikeouts and just 14 walks over 86.2 innings. The Missouri native then made three playoff starts, going 2-1 with a 1.33 ERA and 28 strikeouts to three walks over 22 innings, leading the Rascals to the Frontier League championship. Included in his postseason performance was a complete game victory with 11 strikeouts on September 3 against the Evansville Otters.
The righty began his professional career in the Houston Astros organization. He spent three seasons (2017-19) in their system, reaching as high as Triple-A Fresno in 2018. In 58 relief appearances during that span, the Lindenwood University alum went 5-6 with a 2.87 ERA, 11 saves, 95 strikeouts and 28 walks over 81.2 innings of work. Feldmann was originally signed by the Astros as an undrafted free agent in 2017.
The Long Island Ducks are members of the Atlantic League of Professional Baseball and play their home games at Bethpage Ballpark. For further information, call (631) 940-DUCK or visit www.liducks.com.