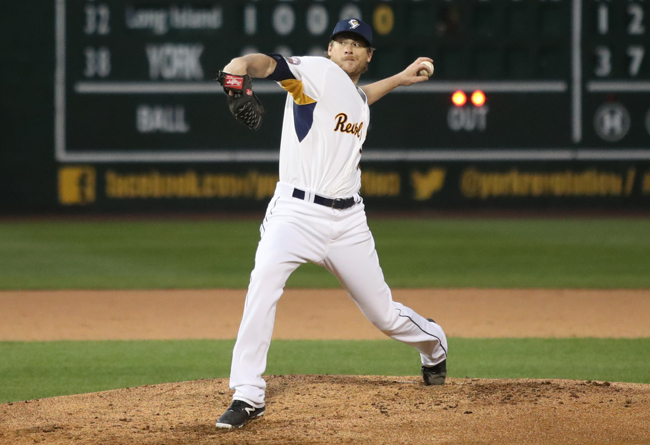 Lefty slated to start tonight's game vs. Minnesota Twins

(York, Pa., June 28, 2019) - For the second consecutive season, left-handed pitcher Ross Detwiler has gone from the York Revolution starting rotation to the Major Leagues, having been promoted from Triple-A Charlotte to the Chicago White Sox. Detwiler will start tonight's game at Guaranteed Rate Field against the American League Central-leading Minnesota Twins.

Detwiler began the 2019 season as the Revs' Opening Day starter and made three starts for York (0-0, 2.81 ERA) before having his contract purchased by Chicago on May 9. Detwiler made an immediate splash with his new club, striking out 10 with no walks in six innings in his Charlotte Knights debut on May 14 vs. Rochester. Overall he went 1-2 with a 3.98 ERA in eight International League starts for Charlotte.

"We are very happy for Ross and wish him nothing but the best," remarked Revolution manager Mark Mason. "His hard work and attention to detail while he was here the past two years has paid off for him. Hopefully he will get an opportunity to stay there and prove what he can do."

When Detwiler's contract was purchased by the White Sox, he joined Val Majewski as the second player in Revs history to have his contract purchased from York by two MLB organizations, having gone from York to the Seattle Mariners in 2018. Now, he becomes the first in Revs history to go from York all the way to the Major Leagues twice, doing so in consecutive seasons.

Last season, Detwiler became the tenth player in Revs history to reach the Majors after playing in York and the fourth to do so in the same season. After going 3-1 with a 2.70 ERA in six starts for the 2018 Revs including an 11-strikeout performance in his final outing, Detwiler's contract was purchased by Seattle on June 1, 2018. Spending the bulk of his season at Triple-A Tacoma, Detwiler was called up to Seattle on August 21 and allowed just three runs in six innings of relief in a game against the defending World Champion Houston Astros.

The starting assignment is Detwiler's first in the Majors since making seven starts for the Oakland Athletics in 2016. The 33-year-old has 23 big league wins and a 4.36 ERA in 190 career appearances (83 starts). He was a 10-game winner in 2012 for the Washington Nationals, who selected him sixth overall in the 2007 draft. Detwiler spent seven seasons with Washington and has also pitched for the Texas Rangers, Atlanta Braves, Cleveland Indians, Oakland, and Seattle. The White Sox are his seventh Major League club.

Detwiler becomes the second Revs alum to start a big league game this season as lefty Ryan Feierabend (York 2012) made a start against the White Sox, also at Guaranteed Rate Field, for the Toronto Blue Jays on May 18. Detwiler joins Feierabend, Scott Rice, Edward Paredes, and current Rev Ian Thomas (all left-handed pitchers) as the fifth former Rev to appear in the Majors in multiple seasons. All but Feierabend have done it in consecutive seasons. Detwiler joins Feierabend and Thomas as the third former Rev to start an MLB game as well as the third to appear in the Majors for more than one club.

About the York Revolution

The York Revolution Professional Baseball Club is a member of the Atlantic League of Professional Baseball. The Revolution were Atlantic League Champions in 2010, 2011, and 2017. The 2019 season is the team's 13th. Located at 5 Brooks Robinson Way, PeoplesBank Park hosts all 70 home games, in addition to myriad events through the entire calendar year. For tickets or more information, please call 717-801-HITS (4487) or visit the Revolution online at www.YorkRevolution.com.

About the Atlantic League of Professional Baseball (ALPB)

With eight teams in the Mid-Atlantic and Texas, the ALPB is a leader in baseball innovation and a player gateway to Major League Baseball. Through its exclusive partnership with MLB, the Atlantic League tests Major League Baseball rules and equipment initiatives. The Atlantic League has sent over 900 players to MLB organizations while drawing more than 40 million fans to its affordable, family-friendly ballparks throughout its 22-year history.

For more information, please visit www.AtlanticLeague.com.

###