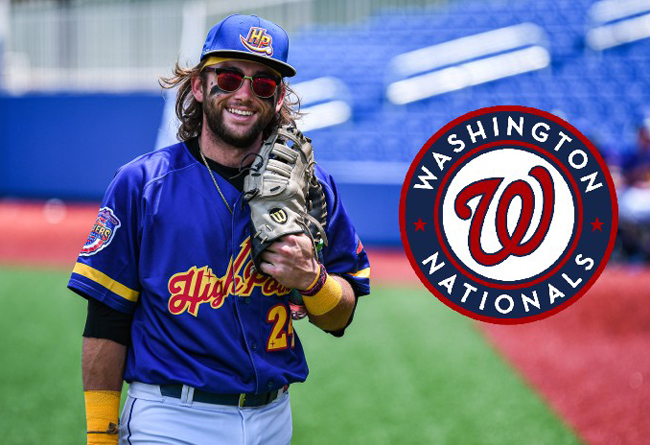 Atlantic League Player of the Month April/May heads to Double-A Harrisburg

(High Point, N.C., June 7, 2019) - For the fourth time this season and second time in ten days, a High Point Rocker has had their contract purchased. This time it was the Atlantic League Player of the Month, Dante Bichette Jr. who is heading to the Washington Nationals organization.

During his time in High Point, Bichette Jr. has brought a lot to the Rockers. Bichette Jr. hit the first home run at BB&T Point and became the first Rocker to win Atlantic League Player of the Month. Bichette Jr. has been consistently batting over .400, leads the league in OBP with .412, as well as leading the league in hits with 54.

In his 36 games with the Rockers, Bichette Jr. has recorded 23 runs, 54 hits, 3 home runs and 23 RBI's. Bichette Jr. will be heading to the Double-A affiliate of the Washington Nationals, the Harrisburg Senators. The Rockers enjoyed having Dante in High Point and wish him well in his journey to make it to "The Show".

About High Point Baseball, Inc

High Point Baseball aka the High Point Rockers will begin their inaugural season in the Atlantic League in 2019 with their home opener schedule for May 2, in a brand new approximately $36M downtown ballpark named BB&T Point. Expected to enhance the rich baseball history in North Carolina, High Point Baseball is part of the fastest growing family sport in America. High Point Baseball is committed to providing superior customer service and quality, affordable family entertainment experiences for the Triad of North Carolina. Look for exciting upcoming announcements, including the team mascot. In addition, season ticket deposits are currently being accepted, while corporate partnerships are currently being crafted.

About the Atlantic League of Professional Baseball (ALPB)

With eight teams in the Mid-Atlantic and Texas, the ALPB is a leader in baseball innovation and a player gateway to Major League Baseball. Through its exclusive partnership with MLB, the Atlantic League tests Major League Baseball rules and equipment initiatives. The Atlantic League has sent over 900 players to MLB organizations while drawing more than 40 million fans to its affordable, family-friendly ballparks throughout its 22-year history.

For more information, please visit www.AtlanticLeague.com.

###