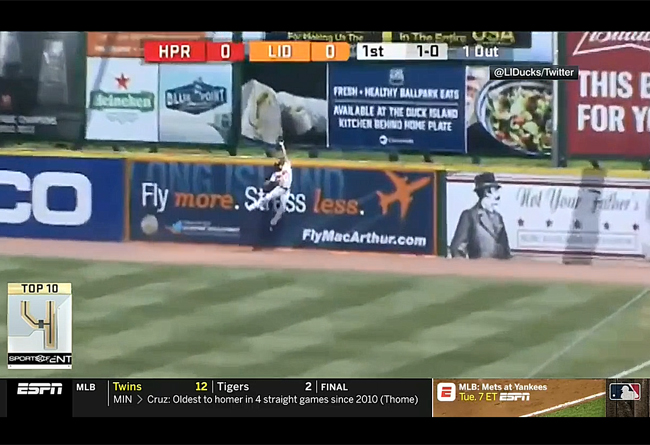 Home run robbing catch highlighted in SportsCenter's Top 10 Plays

(Central Islip, N.Y., June 10, 2019) - Long Island Ducks outfielder Daniel Fields was highlighted in SportsCenter's Top 10 Plays segment on ESPN during their Sunday night and Monday morning broadcasts.

The three-year Atlantic League veteran made the cut after making an incredible catch during the Ducks game against the High Point Rockers on Sunday, June 9. Rockers catcher Myles Schroder hit a deep fly ball to right field in the first inning. Fields raced back to the wall, battled windy conditions, timed his leap perfectly and made the catch with his glove over the right field fence. The grab prevented High Point from taking an early lead in the ballgame.

Later that night, the catch was featured as the #4 play on SportsCenter's Top 10 Plays segment. It was showcased against the following morning in the same slot. Check out the grab, as seen on ESPN's SportsCenter, below:

The Long Island Ducks are members of the Atlantic League of Professional Baseball and play their home games at Bethpage Ballpark. For further information, call (631) 940-DUCK or visit www.liducks.com.

About the Atlantic League of Professional Baseball (ALPB)

With eight teams in the Mid-Atlantic and Texas, the ALPB is a leader in baseball innovation and a player gateway to Major League Baseball. Through its exclusive partnership with MLB, the Atlantic League tests Major League Baseball rules and equipment initiatives. The Atlantic League has sent over 900 players to MLB organizations while drawing more than 40 million fans to its affordable, family-friendly ballparks throughout its 22-year history.

For more information, please visit www.AtlanticLeague.com.

###